Free Adobe Tools and Learning – Follow Me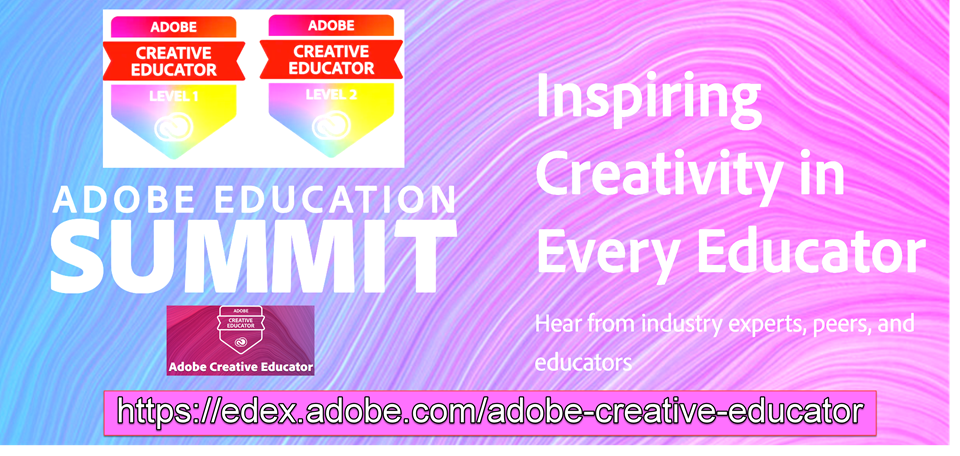 Join me on the Adobe Education Exchange. It's helpful for learning new digital skills and downloading free tutorials & project ideas. It's also great for connecting with other creative educators and getting help. Plus, it's free!
The education exchange in Adobe is the perfect place for educators to sign up for free to learn to use Adobe tools in their classroom or life. What I love about it is that when you join a course or simply browse through the reference material – you not only feel as if you are learning something useful for yourself and your students, but it is fun and you feel like part of a community.
You don't feel bored because regardless of what you are involved in, the fact that creativity plays such a large part in the learning and the diversity of your fellow students and lecturers mean that you are guaranteed to be surprised and delighted by the experience.
I want to talk about the new Adobe Creative Educator initiative just launched by Adobe. This is perfect for the teacher who has a little or a lot of skill with Adobe products.
I have signed up for a basic one hour course called "Creativity for All" and I challenge you – especially if you teach in the Northern Territory to sign up as well. Not only can we do the course together but it is designed to be understanding of the loads already upon teachers and straight out the box, you can use concepts from the course in your classroom – so come and join me and sign up for a free Adobe ID if you don't have one and join the course and the Adobe Education Exchange.
These hours can be credited towards your mandatory professional development hours and they are a fun way to do that.
I hope to see some familiar locations in the NT alongside the names of fellow students as we embrace creativity in the classroom together. Feel free to reach out to me via this blog or my work email.
To give you a taste – I love visual storytelling (and writing lots of words which is what I am doing here) so within the first two topics of this starter course, I get introduced to some fantastic content from Pixar about storytelling (and those guys know how to do it). 
This was found by viewing a topic in the course – heading to the Khan + Create section of the education exchange and creative educators exchange and then diving into the videos created by Pixar about storytelling through links provided in the teaching plan resources… Will you follow me down the rabbit hole?
I really suggest that you go to Adobe, join up and enroll in courses that are of interest to you. The links above are just to show how interwoven the content and content providers can be in delivering great learning content to you… and truth be known, you can be using any of the many many tools out there to create your own story… not just Adobe's tools. This is about seeking inspiration, securing some learning and then heading off on one's own journey of creation.