Lockdown #6 More Photographs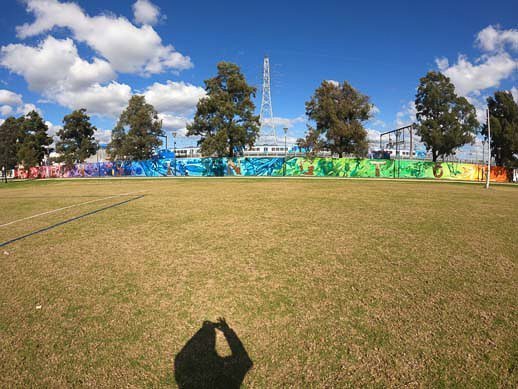 Walking around in our 5km exercise location centred in Kensington, Melbourne, we have a great number of places to visit. The red circle is the boundary radius of 5 km from our home location. 
Flemington Racecourse, Victoria markets, Maribyrnong River, Melbourne International Gateway, Moonee Ponds Creek, Docklands, and many more locations are the destination of our walks.
In looking at the photographs, I marvel at what we can see and visit within a 5km radius of our little house.
Flemington Racecourse on our left across the Maribyrnong River and Melbourne City Centre in the distance. Click on any of the photographs for a larger view in SmugMug.
The bright colours of flowers can be found everywhere. These are along the Maribyrnong River at Footscray Park.
The Edgewater estate on the Footscray side of the Maribyrnong River has a large protected inlet that runs parallel to the main river.
Turning off Epsom Road and walking through the Walter Street reserve towards the golf course which meets the marathon on River provides a wonderful green corridor in inner built-up Melbourne.
The old stock route leads from near our house down to the Maribyrnong River and is filled with character and shady peppercorn trees. A local school in Kensington is surrounded by historical cattle and sheep pens. Lynch's bridge which forms the Epsom Road overpass has beautiful, tiled artwork along its walls.
With spring just about on us, pink and white blossoms from the various plum, pear and cherry trees found in many of the streets have burst into bloom.
The famous Flemington Racecourse has reopened its gates to the strolling Covid 19 exercising public. At this time of the year, the roses have been heavily pruned and only the vibrant fluorescence of the succulent plants offer floral colour to the walkers. They have almost hi-vis reflective colouring on their bright plastic-looking petals.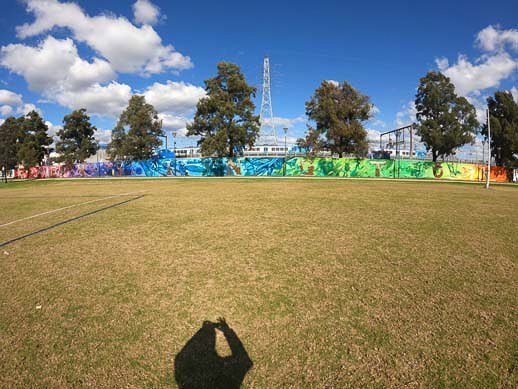 The nearby JJ Holland Park has an incredible mural spelling out the word Kensington almost camouflaged in amongst the beautifully coloured art which stretches along a barrier disguising the current train tunnel works going on.
In an easterly direction from our house is the well-known Melbourne international Gateway with its long 70 m yellow stick which looks like a massive boom gate in the up position hanging over the Tullamarine Freeway as it joins Flemington Road. On the opposite side of the road are 39 tall red sticks which represent sheets of wheat. The yellow stick represents the gold rush and not the cheese stick that some think it looks like.
I included this picture to show that even amongst the art we can still encounter the less pretty side of our human impact.
Victoria Market is another famous location within walking and shopping distance from our home.
This next set of photographs highlight moments in recent time.
The emptiness of the Tullamarine freeway.
A point in time when walkers could not access Flemington Racecourse for exercise.
The Chinese Temple along the banks of the Maribyrnong River.
Early cherry blossom trees in neighbouring streets. A stylish red Vespa in front of an equally stylish town hall in Kensington.
Newell's paddock, the current home of 2 black swans and 5 cygnets along with many other waterbirds. An artistic pizza shop sign in North Melbourne.
Finally 3 photographs from pre-lockdown 6. These were taken along the Yarra River at Fairfield near the Fairfield boathouse which has beside it an amazing bluestone Greek amphitheatre. There is a narrow pipe bridge that takes you across the Yarra River and through some beautiful native parkland. On that day we celebrated Helen's birthday in the boathouse. That was on the 29th of July before we entered lockdown and fortunately gave us a window of time to enjoy a birthday celebration between me arriving in Melbourne and before lockdown started.
So what's the LearnShift here? It could be about multimodal storytelling… but it is really about gratitude for what we have and loving the moment we are living in.
What do I use to capture and record this?
I carry my GoPro camera with me and tend to take a mixture of time-lapse video, normal video, and photographs. This gives me the raw material that I can use for a story like this.
I have a small program I wrote in LiveCode that separates my video files from photographs so when they are uploaded from my memory stick they are placed into folders named by date under a master media type folder. So all the photographs taken on a certain date will appear in that date folder under a folder called photos. Videos taken on the same date will appear in a folder of the same date but under a master folder called videos. This is useful for me because I upload these photographs to a photo hosting service called SmugMug. I can point the upload at the top-level photograph folder and it will upload any new photographs automatically to SmugMug where I can organise them into galleries and embed them into a WordPress post such as this one. Another advantage of using SmugMug is that when I embed the photographs into the website they can be embedded as small versions which can be clicked on to display the large resolution photograph. So that way my wordsmithing is taking place in WordPress and image management is taking place in the photograph hosting service.
To reflect on the wordsmithing portion I actually narrate the post into a Word document using dictation software. This provides me with a script I can use in a podcast which hopefully guides listeners who are on the move to an overview of the blog post and if they are interested they can visit this website to view the images or find out more about the story.
Let me also share these free educational resources from National Geographic which combines photography with storytelling… which I haven't done very well with my photos, letting the images present the serendipity of events we chance upon during our walks.

Dear Educators,
We would like to let you know that the videos in this course are now publicly available in the National Geographic Resource Library. You can share the videos with your students or incorporate them into future instructional plans.
Creating a Photographic Story of Place: Erika Larsen
Storytelling Through Photography: Hannah Reyes Morales
Storytelling Through Photography: Tailyr Irvine
Photographic Storytelling in the Classroom: Allison Fuisz
Cheers!
National Geographic Teaching Team