Resumes and Portfolios in 2020
When I see something that doesn't seem right and I can contribute, I will.
That is what happened the other day when I reviewed Joe's resume. There wasn't anything wrong with his resume, but when you are applying for a job, your resume should stand out and be truthful. His was certainly truthful, but we needed to ensure that he was writing for the audience (the employers reading the resume) and only about the match between relevant skills and job criteria…
We expect that specialist staff at school, generally given titles like careers counsellor or student or school counsellor prepare students in their final years of high school for either applying for that part time job to supplement their university lifestyle or indeed a full time job.
As a parent I attended the career counsellor sessions for parents and was shown bullseye charts and warned of the evils of our child posting bad things on social media which could later be found in a quick internet search by a prospective employer.
I was advised that too much gaming was bad and to be on the lookout for any behavioural changes during these challenging final years of high school. 
These were interesting and indeed would be valuable for many parents who struggle with online challenges of the 21st century – although we are now a fifth of the way through it.
What I did expect was that during my son's high school attendance, he would be coached or taught the skills required to craft and maintain an employment or advancement opportunity from volunteering to education in the form of a resume, portfolio and professional online presence…
I was wrong.
The focus seemed to be more about keeping the students on the rails for their time at school rather than helping creating a Space-X launchpad for life after school.
Now, I am not the kind of person who indignantly says… "This should be done by [insert role, department, school name]!" – Refer back to the first line of this post to see my approach. :-).
My thoughts were that if Joe was having a challenge crafting a resume which would stand out, then there would be many more school leavers in the same boat.
Part of my role with Education in the NT revolves around digital initiatives and digital dexterity, which has nothing to do with finger or toe yoga. Digital Dexterity is the ability and desire to exploit existing and emerging technologies for better business outcomes (according to Gartner).
I would have thought crafting a resume would be at the lower end of digital dexterity initiatives however I decided to put together a PowerPoint deck to share with schools in the Northern Territory using software solutions available in our SOE (Standard Operating Environment).
I qualify the scope of the solutions I talk about because although using a wonderful product like Adobe InDesign to craft a beautiful resume is possible, not many of our school leavers have the skills to use InDesign or have access to the Adobe Creative Cloud. So many if not all the suggestions linked to actual software solutions are free or at least available as part of our environment.
Now this post will appear on LinkedIn as well as my Learnshifting blog and Learnshifting Facebook page. I want to give a shout out to the combination of Lynda.com, LinkedIn and their parent owner Microsoft who have created (or purchased) an ecosystem which connects jobseekers with employers and positions with their requisite skills and provides some of the training to be able to obtain those skills… still a work in progress, but the vision is great.
Problematically, I think many of our career counsellors are unaware of the tools available through this single (but very large) solution, from the LinkedIn Resume Assistant embedded into Microsoft Word through to the training material on Lynda.com and blog posts available supporting jobseekers in what to include and what not to include in their resume.
So if you are a parent, a teacher or a job seeker – please take a look at what I have gathered and share if useful. Pay it forward by commenting with your suggestions to help school leavers who really want a job to be the best truthful advertisement of themselves that they can be. Click on the image below to load the PowerPoint… feel free to use any of it you find useful.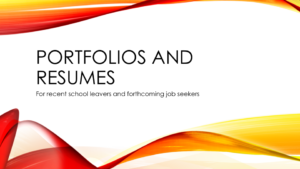 Oh, and if you are looking for a high school tutor – primarily in English – I know a young man in the Melbourne area who is looking for some part-time work to supplement his study time at Melbourne University… His name is Joe Christie and his LinkedIn profile is here
He now has a pretty good cover letter and resume… which he might share.
I will finish with an interesting observation which I include in the PowerPoint… It's not just grade 12 graduates who need a little help… Boomers like me brought up on writing the war and peace style resume and haven't applied for a job in a long time get a shock when told to submit a one pager… so there's scope to share these notes beyond our young workforce entrants… Luckily the next career move letter I will be writing will be probably less than a page…