Graduating – Celebrating and Life Long Learning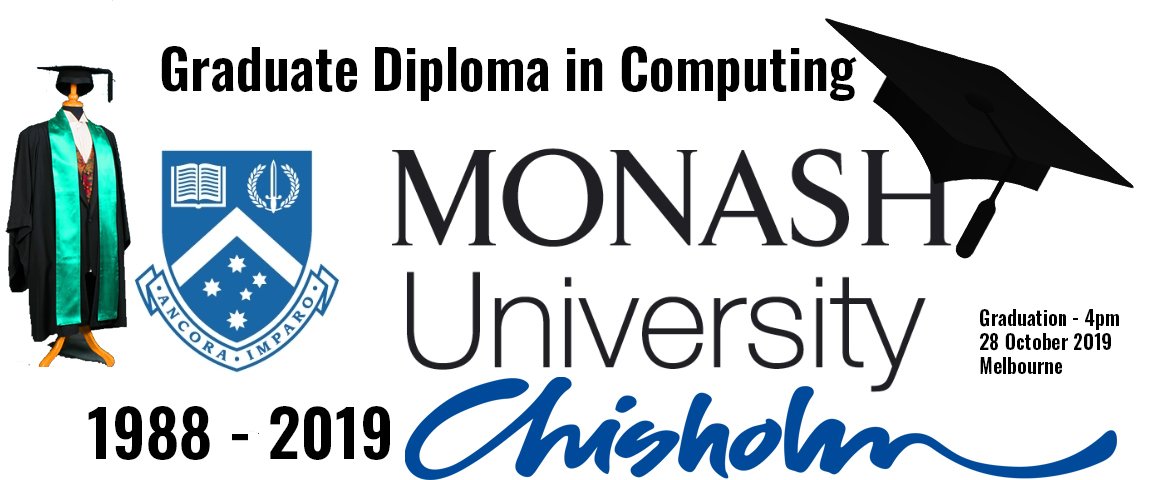 31 years ago, after being told that I didn't really have any skills apart from being able to speak Chinese and Indonesian, I embarked upon and completed a Graduate Diploma in Computing at the then Chisholm Institute of Technology which later merged into Monash University.
Sebetulnya kemampuan dengan bahasa sangat penting…terutama dalam dunia yang terus berubah…
其实语言技术很重要 – 特别在我们总是有变化的世界.
I completed the course but never graduated as I was busy becoming a consultant and travelling overseas to create my own stamp on life.
Recently, seeing the wonderful graduation ceremonies of friends, nieces and nephews and the various accolades our own son has achieved – I thought it would be both personally satisfying and I hope a little inspirational to attend my own graduation ceremony and receive this qualification.
Today I graduate from Monash University – 28th of October 2019… occurring on my 58th birthday and just two days before our son Joe and his friends embark on final year 12 exams – Today is a celebration.
It celebrates that 31 years ago adapting to needs in order to seek a meaningful career; it acknowledges the working as a security guard from 4am in the morning before attending classes so I could pay my mortgage; it encourages the seizing of an opportunity to perform consulting work in China during the final parts of the course – adding pressure to an already overloaded schedule and then even before graduation, securing employment with Andersen Consulting which led to immediate overseas postings and career opportunities.
So although the struggle, the challenges and the tears – yes there were tears – along with the final outcome were not celebrated properly 31 years ago – had I done so, I would have celebrated only with a handful of fellow students whereas today via livestreaming, Facebook and LinkedIn – the world is a different place and everyone can literally (or rather virtually) attend my graduation and celebrate with me! 
Of course I will be posting photos, but anyone with nothing better to do – you can view the event live at
Which of course is something I could not have done 31 years ago… In reality we are probably all a little busier than our counterparts of three decades ago, so I don't expect this event to "break the internet"… or anyone to actually tune in… 🙂 I don't think the smiley emoji was even a thing back then…
The actual qualification is not a Masters or PhD – and I hope readers understand it is not the level or duration of the qualification but rather the combined act of learning, achieving, celebrating and sharing which is something that as bosses, leaders, managers, teachers or dare I say parents – we should be mindful of – celebrating the success of others and occasionally ourselves…
After the celebrations it is back home to continue study on my Certificate IV in Training and Assessment qualification upgrade and my first class of the Mobile App Design course with the Adobe Education Exchange starts tomorrow… This year I added Adobe Education Leader to my Adobe Education Trainer qualification and I am really proud of that association with the cool tools and attitudes of what that company stands for…So… Life Long Learner? Life Long Trainer? You Bet!