Is story capture worth it?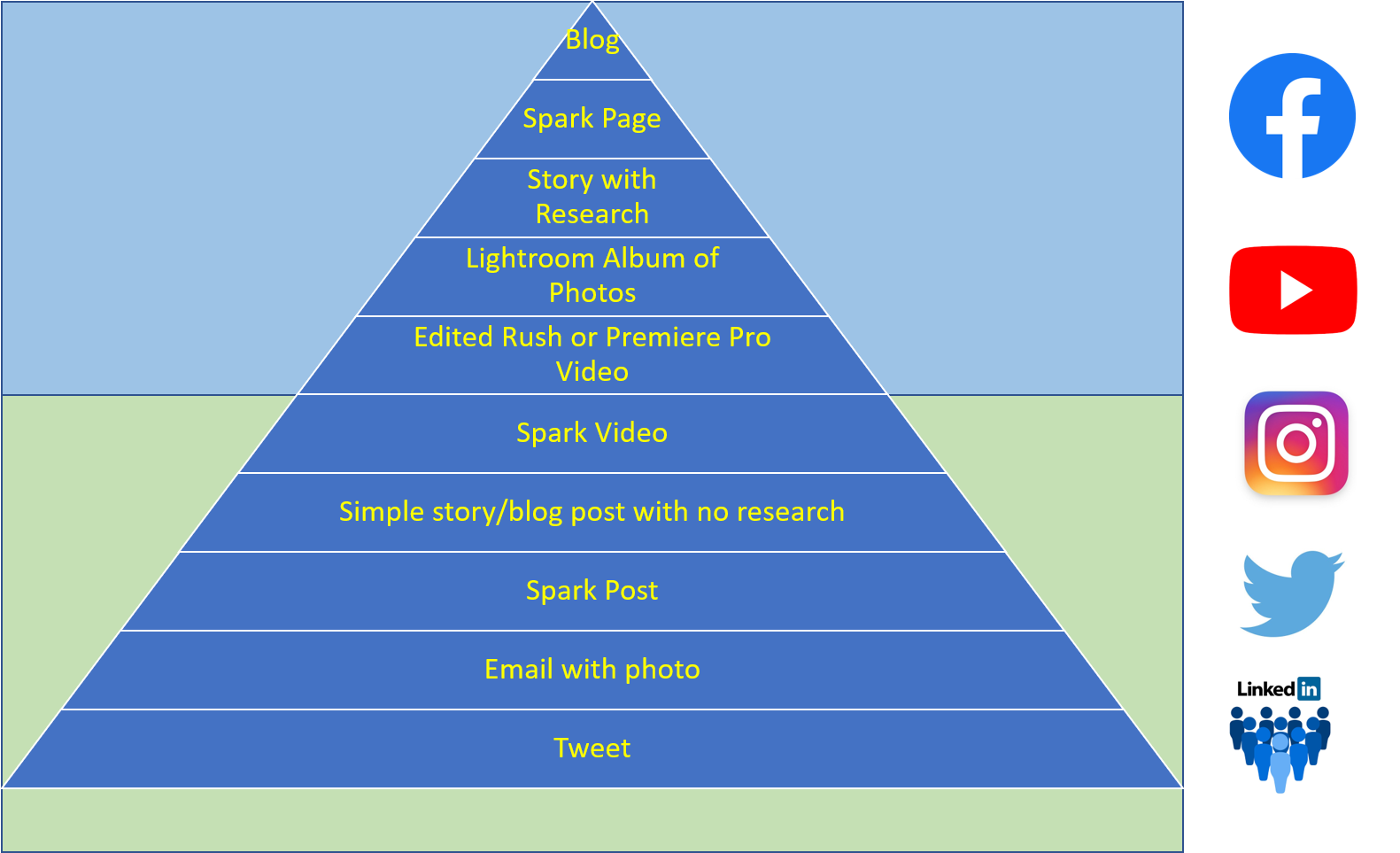 It's 10 o'clock at night and I want to write a post about creating multimedia stories. In the background my computer is copying a number of large video files from my GOPRO into a central location. Part of me has writer's block and part of me simply wants to go to sleep. I'm sure a lot of teachers wanting to enthuse students into writing stories, creating multimedia essays encounter the same challenges with students who question why should they do it. Unless it's a grade-based assignment it's sometimes hard to convince someone that documenting, recording or capturing experiences and events… and transforming that into story shared with someone else is something worthwhile doing.
With the previous paragraph I'm already over my allowed tweet limit. So I know that with a meme like photograph and a hundred or two hundred characters I could put something out now and my work here would be done.
Learnshifting is meant to exist to support educators and students primarily in the technological aspects of multimedia storytelling. The way I wanted to do that is by creating stories around my flying adventures in my small ultralight aircraft which I create, and place on my pilotographer blog. Then here on the Learnshifting blog I go through elements of that story from a technical perspective, describing features and techniques that students or teachers might use to create their own stories.
Because I don't do this for commercial gain, the only way I would keep going with it is to be doing something that I like. For those of you who know me, flying is a passion, as is sharing ICT related knowledge and information around tools like Adobe and Microsoft. Finding what our students are passionate about will bring out their best storytelling efforts.
So in this short post. I simply want to present a pyramid of story telling tools starting from possibly the easiest through to the one that may consume the most amount of time.
I do have the tweet as the easiest. However, in the same way that Haiku poetry can be written poorly or well there is certainly skill, technique and art in the mastery of a short tweet that captures the imagination and attention of its readership. So when I say easier, I really only mean that it takes less time to go from concept to publishing.
At the pointy end of the scale or the most time-consuming I believe is the creation of a blog post which encapsulates an audio podcast, an edited video which you have shot and edited along with research of content and additional photographs which may stored in a Lightroom album in relation to the story post. That blog post of course can then be reposted to the various social media formats. But that is after all the hard work has been done.
The following diagram or pyramid shows my personal hierarchy of effort that I believe is allocated to each of the tools and approaches to get a story from concept to being published.
The parts of the pyramid which have the blue background. I consider to be a project based post. That means that they take more effort to create and publish. The approaches with the green background require a little less preparation and effort, and they would be the ones I would select as an approach for students in a classroom undertaking multimedia storytelling projects. I am thinking of primary school students here. Even though it is unlikely a primary school student will be sending out a tweet, there is nothing wrong with providing them with the skills to publish within their class a powerful tweet length statement along with a link to a photograph or video.
You will see from my blog posts in this blog or across in the pilotographer blog that I take this tools approach to creating my stories and posts.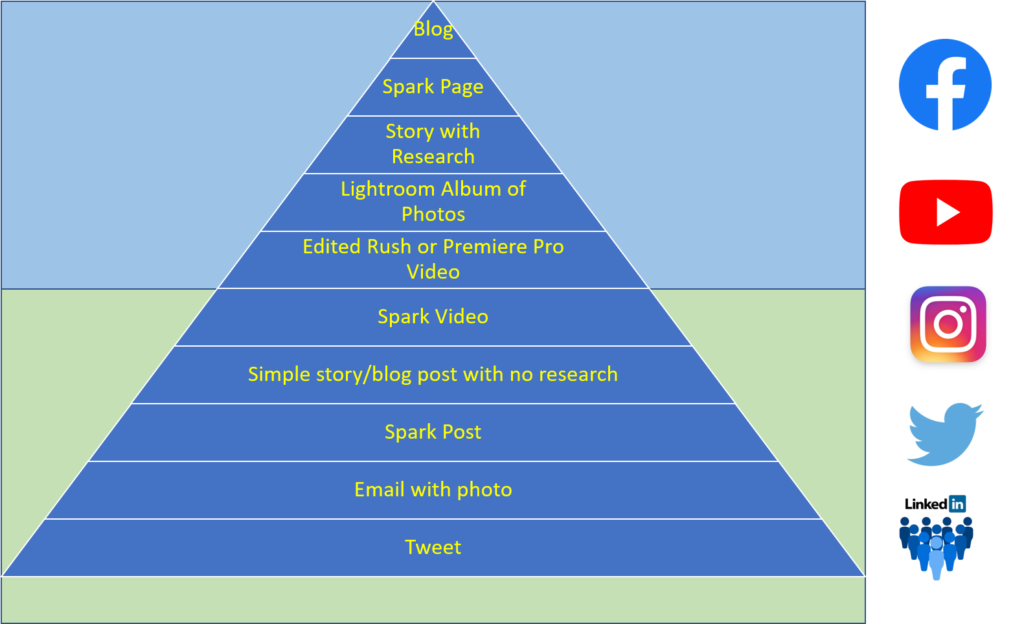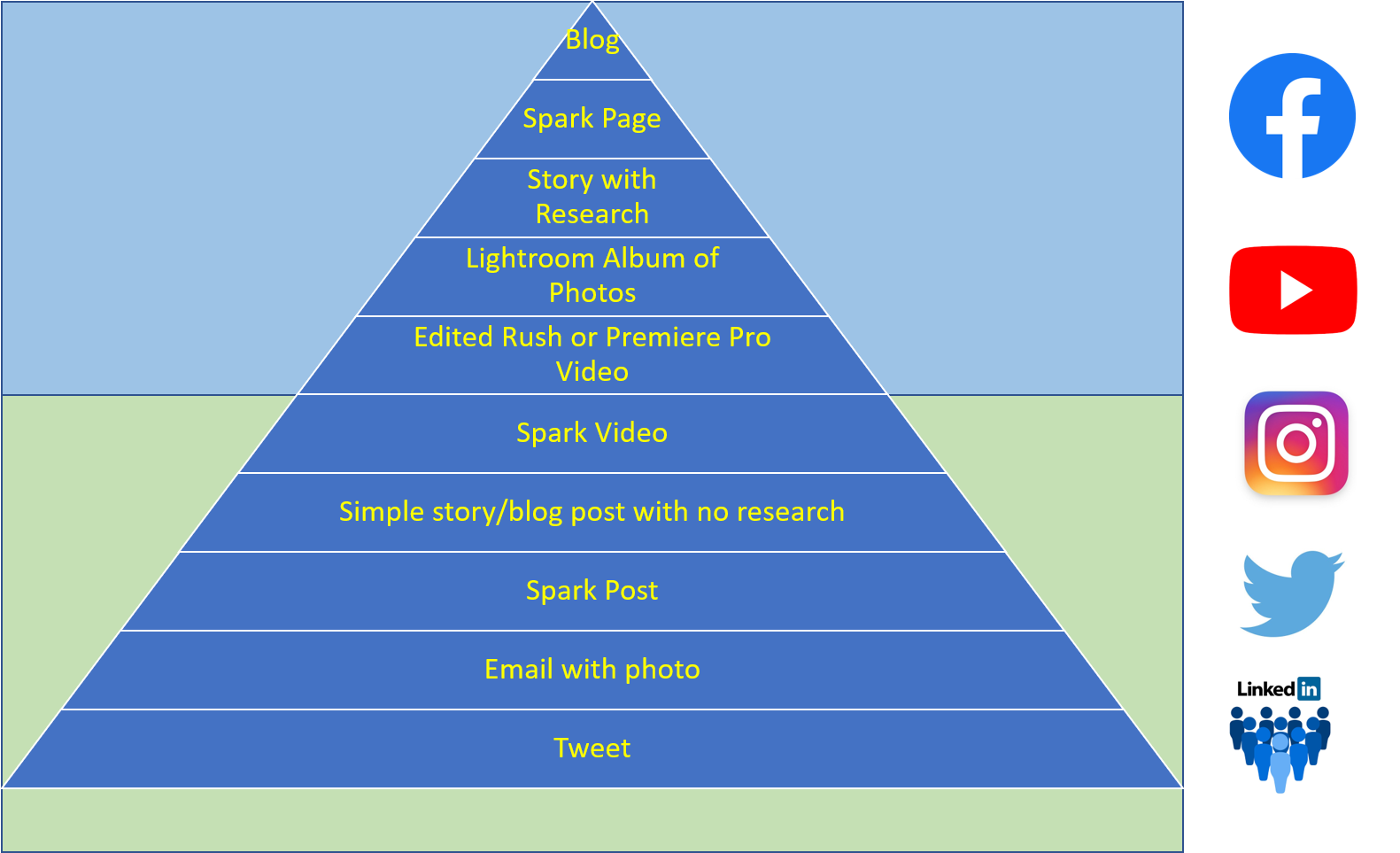 Although my focus here is on the Adobe range of products you can of course substitute tools like Microsoft sway, PowerPoint or my other favourite Techsmith Snagit or Camtasia.
So in order to have students to write successfully, we need to ensure that they enjoy what they're writing about and are invested in presenting the best quality product they can do show off what they're passionate about.
So even though they may be tired and the story or assignment they're working on might only be worth a few percentage points; if they have worked on something that they have pleasure in doing and what I mean by that is that the story has come from an experience or an activity that they like doing then they will do better at transforming that into a compelling story.
Whether that is a short tweet or a full-blown blog post.
Interestingly, you can combine a whole bunch of tweets together into what's called a tweet book so that even though you may have started out with two hundred characters when you multiply that by a number of tweets you can create a large readable story.
In today's world we have the ability to deliver messages in shortened form, longform, video, audio, photos, and written form and they can all be adjusted to suit the amount of time that we have to deliver our message. The key thing is having the idea or the experience and putting finger to keyboard.
The reason I know this works is from a technique standpoint is twofold. We travelled extensively overseas with our son during his primary and secondary years.
Those events and experiences coupled with a multimedia loving parent who was always looking for the opportunity to grab that reflection on how awesome the six flags ride was or the Ferris wheel in Singapore or the London Eye meant that he developed interviewing techniques, camera skills and his own storytelling style over a number of years – having fun doing it.
Our son has reached an extremely creditable position both academically and in leadership roles. I attribute part of that to the development of his storytelling capabilities, which included capturing those stories and publishing them.
Additionally from an early age he was working at the top of the publishing pyramid in terms of online storytelling by writing and publishing a reviewed version of his own blog.
So is story capture worth it? You bet it is.