SMOOTHIES and Learnshifting

SMOOTHIES stands for
Short
Multimodal
Online
Opportunities
To
Help
Interested
Educators
Succeed


These Friday afternoon 15-minute informal online learning opportunities have been running since before the COVID pandemic and were the main reason I ended up running the upskilling training for teachers who potentially had to deliver classes online during the COVID dark days. To a large extent, the Northern Territory was spared the months of online/from-home education which tested students, parents and teachers.
I still run the SMOOTHIES and they are for Interested Educators as highlighted in the acronym above.
I cover topics relevant to educators using the suite of tools provided by our government. While wide-ranging, our basic tool set is Microsoft and Adobe for classroom delivery with some Apple and the software ecosystem that comes with that plus a little Google at a classroom systems level.
Whether it is the boring but important file storage and retrieval topics, shortcuts in applications and using several apps to shorten a teacher's workload or workflow – or the more exciting multimedia storytelling topics, my focus is on reducing the time required for a repetitive task while staying within the system, security and privacy requirements of our policies.
In everything I do in this space, I ask myself, is it FAIR? (Link unpacks that simple acronym) – Fun, Aspirational, Inspirational, Respectful…
I am, however guilty of using a folksy chatty way of sharing these tips and stories. This of course goes counter to the whole time-saving thing… Those of you who live only for dot points have probably left at this point and I bid you a FAIR-well. I am going to chat a little about generative AI imagery in this post…
My icon for SMOOTHIES has been a couple of colourful beverages on a beach, taken from Microsoft's stock art. I also featured the Count from Sesame Street because in public service wisdom, when I returned to work after the passing of my Father, I was put on a task to essentially "count computers" rather than teach folks how to use them in the classroom… Hence the Count has been a personal reminder that a dedicated person can overcome and thrive out of requests that misuse or waste relevant talents.
This is the old "splash screen" – I have blurred out the Count's face so you can't recognise him 🙂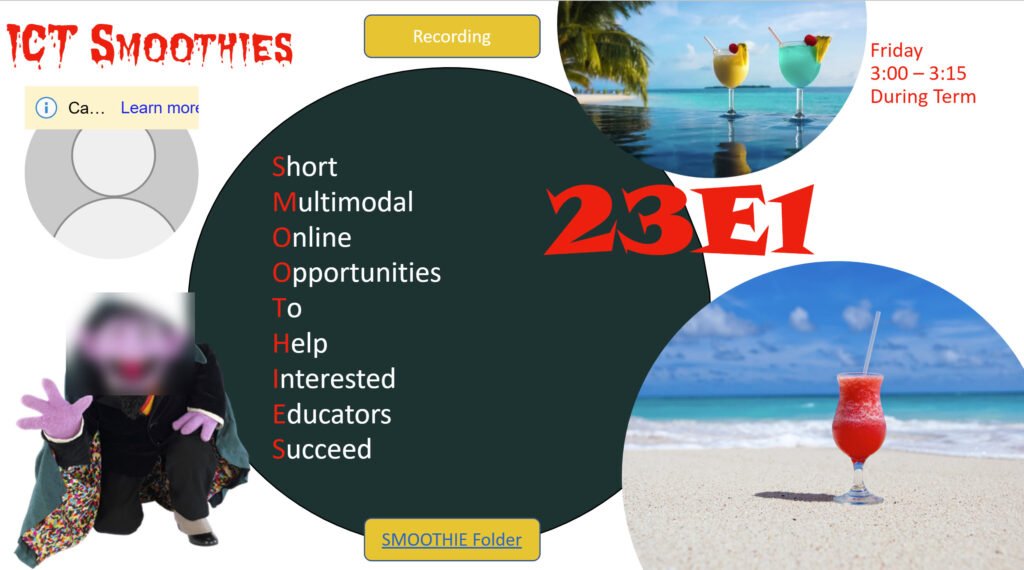 Wanting to share these SMOOTHIES publicly though means I need to rebrand away from the Count, but still pay homage to the fact that he has been with me for a number of years and is identifiable as a friend of educators.
I will use this as a segue into a hot topic, AI. There is nothing artificial about artificial intelligence. I also suggest that we must be informed by doing, not by placing an artificial (that word again) moratorium on its use and hoping that privacy and security guardrails erected by those who will probably never use the technology give our kids the opportunity to thrive in tomorrow's world today.
I liken it to safety testing a car by going into the garage, reading the spec sheet for the car, turning over the motor (or switching on the battery in the case of an electric vehicle) and making a decision on whether the vehicle is fit for use from a safety and useability perspective based on that assessment. No one drives it around the track in wet weather at fast and slow speeds. We need a Top Gear for software reviews… Actually, commonsense.org does that. Check them out.
Back on track. I have used the beta version of Adobe Firefly to create a replacement "splash image" which although not as charming as the original Count, is far better than anything I could produce. It created the image from the sentence I typed, offered me variations and then after spending too much time playing with the options, I selected one. I then used the ability of Firefly to create an artistic fill for any words to create a horticultural feel for the word SMOOTHIE, reflecting my own passion for growing things locally.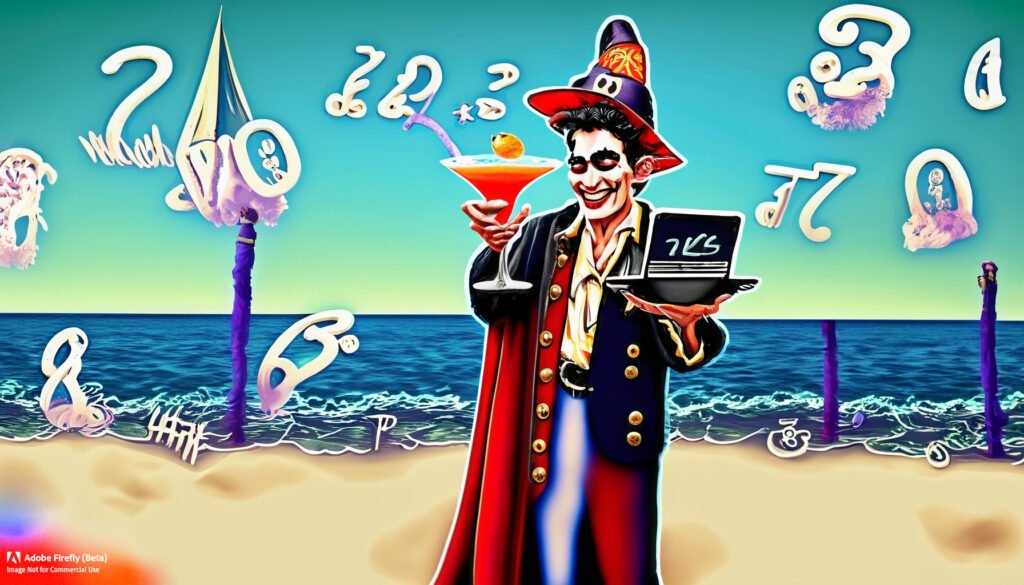 Images are created with metadata embedded stating that the image was created with Firefly. It only uses Adobe stock images, dealing with the issue of copyright and the chance your children's images can be taken and used by this AI product – Not going to happen.
In the free Adobe Express, I merged three versions of the word SMOOTHIE, one with leaves, another with chillies and finally one with mushrooms into a single word before placing it over the image above.
I understand it is a cacophony of colour and there probably will be a version 2, however, I can publish this on the internet guilt-free and only have to suffer the criticism which led me to be banned from using crayons in class from a very early age…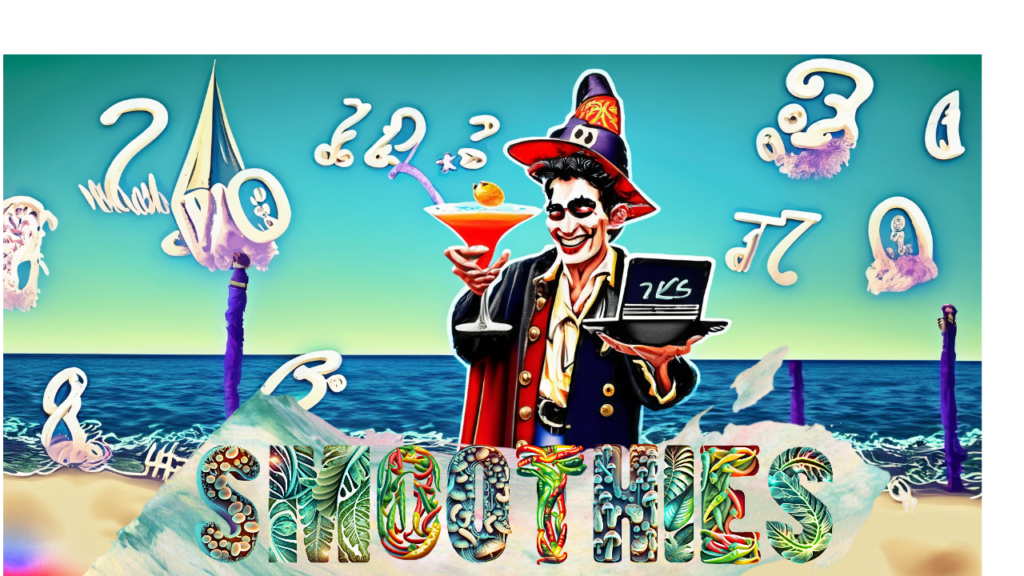 I will finish this post here and my subsequent posts will focus on Teams in Education, eLearning Tools and of course Adobe. I would love you to subscribe but if a real name isn't used in the signup, the account will be "Magic Gone" to safeguard against the spammers.
I recommend you sign up for the free beta of Adobe Firefly and explore what you can do with this package, which is as much about language literacy as it is about art (which I am clearly not good at).